HALT A FORCED UPDATE AND TERMINATE ANY UNRESPONSIVE APPLICATION
As regular windows computer users, we experience at some point in time some technical difficulties with our device that obstructs or causes a delay in our work, affects our productivity and even frustrations. One of my motivation, when I started to learn how to fix computer issues, is for me to be able to deal with them myself when my own machine runs into trouble.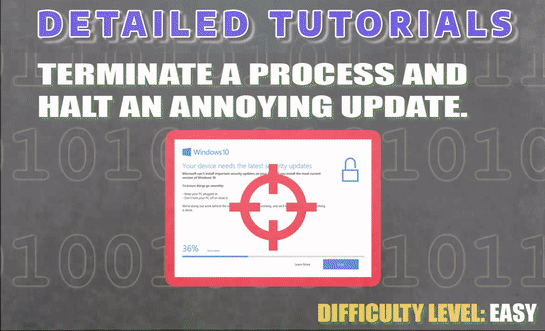 One of the things that may cause a delay when we are working with computers is sudden updates. Imagine if you are running out of time to meet your deadlines, or maybe you are in a business meeting and you are currently doing an electronic presentation such as powerpoint then suddenly this pop-up appears.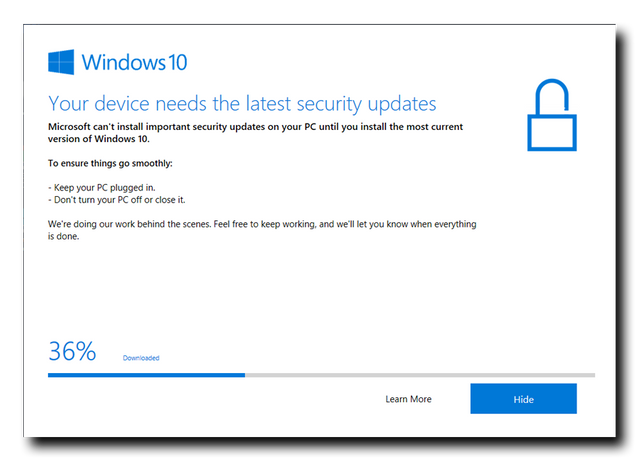 As you can see the dialog box doesn't give you a functional button that specifically says "STOP" or "CANCEL" or at least a "PAUSE" button. They really designed it to be uninterruptible. it is basically saying. "Hey user, this update needs to run not later in time, but right now! even if you click the hide button this will continue to run in the background whether you like it or not!". The worst is, it will be on top of other applications and this is highlighted while the rest are dimmed. I put some exclamation point to make it a little more dramatic. LOL


Also notice that there is a progress bar telling us it is downloading and this obviously will eat some internet bandwidth and may affect your current work, given a situation. A lot of my colleagues already went to me to ask some assistance how to stop it as it is disrupting their work. If it is happening in the organization where I work, I am sure there are other organizations with the same situation. So, is there a way to stop this? Yes, there is.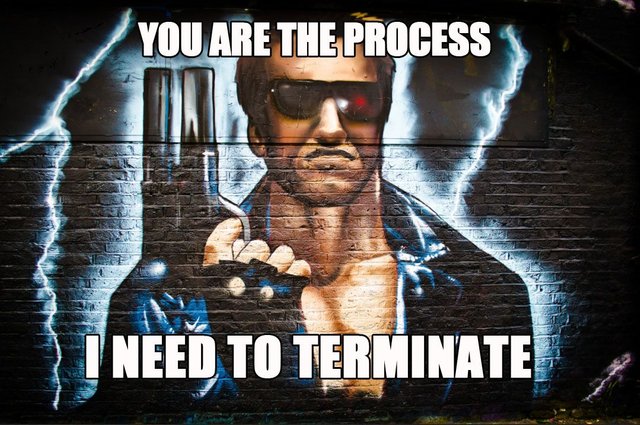 All programs and services running in windows are technically categorized as processes. And these processes can be terminated essentially for troubleshooting purposes. In this situation we will use task manager so we can view the list of processes that are currently running, then we will look to that process that is causing this windows update to pop-up. So that you can run it later if you want. If you prefer to disable the windows update service totally you can read my blog:
WINDOWS 10 EXPECTATION PART 1: DO YOU REALLY NEED THESE UPDATES?.


There are other tools that you can use to terminate a windows process aside from task manager, you can use also the command prompt or Windows PowerShell. Terminating a process is basically stopping a particular program from running, it is being done when that program is causing trouble to the machine or in conflict with other applications or when a technician is trying to troubleshoot a technical issue.
The steps below will show you how to terminate the Windows 10 Update Assistant.
HERE WE GO
From this dialog box click the Hide button, so that the dialog box will be minimized into the system tray.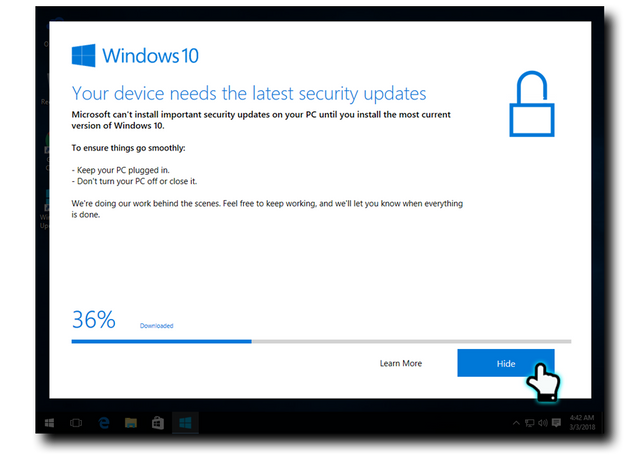 Once minimized, RIGHT-CLICK the taskbar located at the bottom of the screen to bring out a menu/options. You will see the Task Manageroption. Click on it.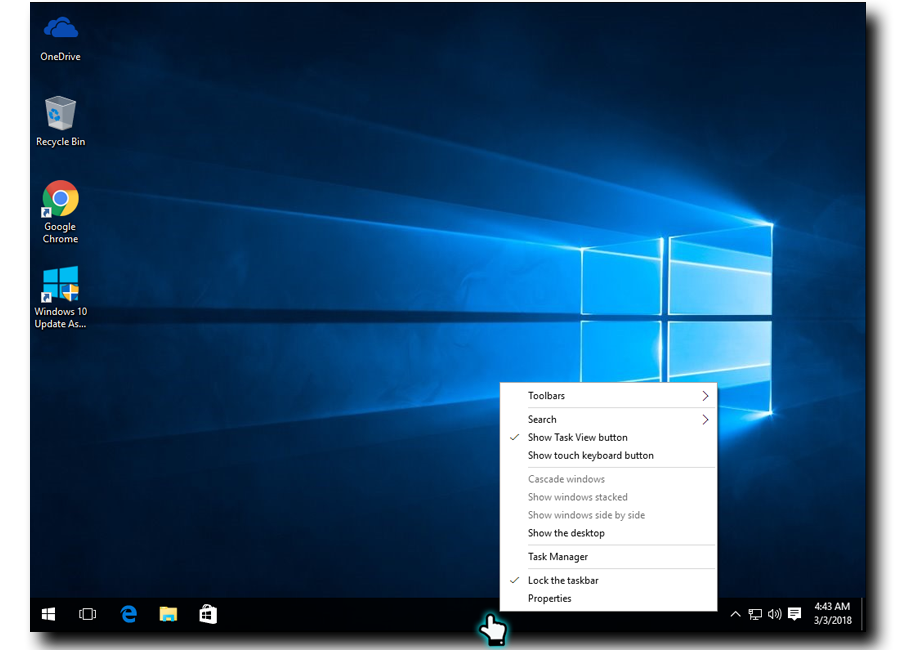 Then, the task manager window will appear sometimes it is minimized like this but you can just click the More details link to reveal the list of processes and windows services currently running in your system.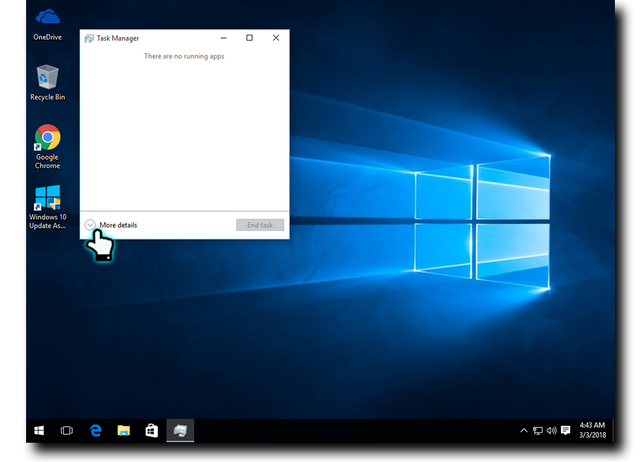 And finally, you will get this window. Just look for Windows 10 Update Assistant, click on it to select then, the End task button located at the lower right hand corner of the dialog box to terminate it.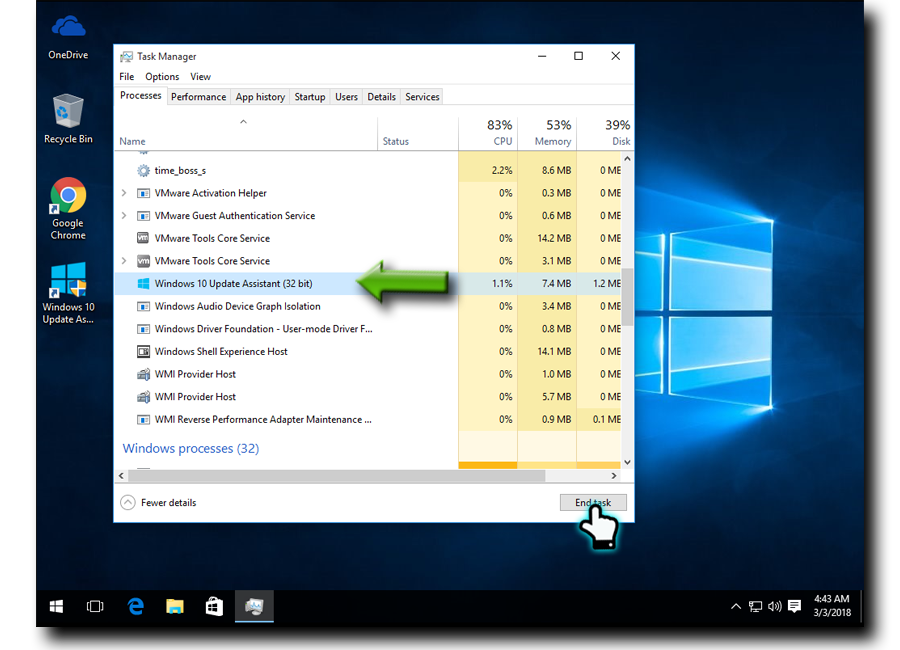 Congratulations! you can now end any program or process that may be causing trouble with your machine!
You can use the same steps if you have an application that is not responding already, one of the most common apps that freezes are browsers especially if the browser is already loaded with lots of websites open that it cannot take so much load due to insufficient computer memory. Sometimes other most commonly used application are not being responsive such as word processors and electronic spreadsheets. Now, you can work around with this issue.
I hope that this has been informative for you, and I'd like to thank you for reading!
Originally Posted on STEEMIT